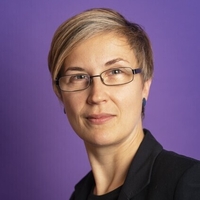 Biography
Dr. Anna-Lena Lamprecht is an assistant professor in the Software Technology group at Utrecht University, Netherlands. She studied Applied Computer Science at the University of Göttingen, holds a PhD in Computer Science from TU Dortmund University, and has worked at the University of Potsdam and at Lero - The Irish Software Research Centre at the University of Limerick.

Dr. Lamprecht conducts research at the interface of (research) software engineering and applied formal methods, currently focusing on FAIR software and automated exploration of computational workflows. She teaches courses on programming, software engineering and formal methods in the department's study programs and beyond.

Dr. Lamprecht is a Westerdijk Fellow, member of the Utrecht Bioinformatics Center, and co-founder and steering committee member of the award-winning Women in Information and Computing Sciences (WICS) network. She is active in several national and international communities, including de-RSE, EASST, ELIXIR, FME, IPN, NL-RSE and VERSEN. She is an NL-RSE core team member, Netherlands representative at the International Council of RSE Associations, ambassador of the Software Heritage project, secretary of the IPN EDI working group, and co-editor-in-chief of the open-access journal ECEASST.
Presentations
Computer Science and Applied Mathematics
Engineering