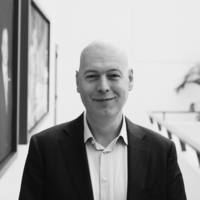 Biography
Rob is the director of Technology at the Netherlands eScience Center. He is responsible for the technology strategy and knowledge development, software sustainability and reuse, external research funding, and the recruitment of Research Software Engineers (RSE). Rob also is professor in "Efficient computing" at the University of Amsterdam. Rob researches how computing can be efficiently used in achieving scientific breakthroughs in various scientific fields. His interests include high performance computing, parallel and distributed algorithms, accelerators, green computing, and programming languages.

organization: https://www.esciencecenter.nl/team/prof-dr-rob-van-nieuwpoort/
linkedin: https://www.linkedin.com/in/rob-van-nieuwpoort-132918/

Let's join forces to make technology more efficient and more sustainable!
Presentations
Computer Science and Applied Mathematics
Humanities and Social Sciences
Engineering